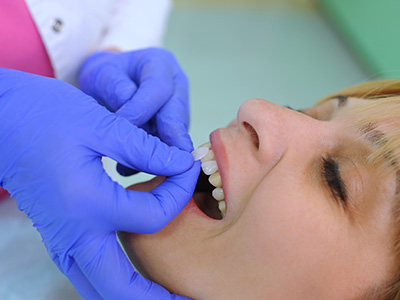 We are always told that first impressions are very important, and if you are insecure about your smile, you worry about making a good first impression. Whether they are misaligned, stained, or chipped, teeth, like everything in life, have a way of going through life's hard knocks. At Esplanade Dental Care, we are here to make sure you make an amazing first impression, and porcelain veneers may be the way do to just that!
The process of getting your porcelain veneers starts with a consultation with Dr. Albert. He will ask you questions regarding your smile, assess its current state, go over how you want your smile to look at the end of the procedure, and answer any questions or concerns you may have. We make impressions of your mouth and send those impressions to a dental lab to make your custom porcelain veneers. When everything is ready to put in your veneers, we prepare the natural tooth by removing a small amount of enamel to make room. Your porcelain veneer is applied and made permanent with resin cement. In the end, you're left with nothing but a beautiful, perfect smile.
The reason why porcelain veneers are a wonderful option to a lot of people is because it gives you a very natural look. In many cases, people don't like for it to be obvious that they had work done, and porcelain veneers are a way for your new look to appear as organic as possible. Porcelain veneers are stain resistant, and can last for up to ten years. Make an appointment with Dr. Albert today, and regain your confidence in your smile!
At Esplanade Dental Care, Dr. Sherif Albert provides quality cosmetic and restorative dentistry services to brighten your smile. Our Downers Grove, Illinois dental office serves patients from Lombard, Wheaton, Hinsdale, Oak Brook and surrounding areas. Call us today to schedule your next appointment.