Emergency Dentist — Downers Grove, IL
Need Dental Pain Relief? Let Us Help
A sudden dental emergency – whether it's a knocked-out tooth or a severe toothache that won't go away – can be frightening. At Esplanade Dental Care, our dentists know how unpleasant such an experience is and do everything they can to bring you immediate, effective relief that'll help get rid of the pain and protect you from oral health complications. Call our office, and we'll find a way to fit you into our schedule as soon as possible.
Why Choose Esplande Dental Care for Emergency Dental Care?
Same-Day Appointments Available
Open Early Five Days a Week
Highly Trained Team of Dental Experts
How We Treat Dental Emergencies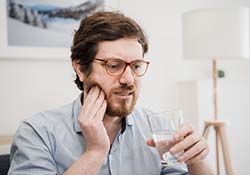 Set up your same-day appointment with us: The moment you get in touch with our practice, we'll do everything possible to get you scheduled for an appointment that occurs the same day you call. In the meantime, we're happy to offer first-aid tips over the phone before you arrive.
Confirming your symptoms through an emergency exam: We'll need to complete a more thorough examination before we can determine the exact cause and severity of your dental emergency. If you are in any immediate, severe pain, we'll provide relief however possible when you visit.
Reviewing our findings: Once the exam is complete, our team should have a much better understanding of the cause of your emergency, where it's located, and how to resolve it. We'll recommend a treatment plan that addresses your emergency at the source. This plan will include your estimated costs and expected timeline, so you're never caught off guard by surprise fees.
Get the care you need quickly: Whether you're in need of dental fillings, crowns, root canal therapy, extractions, or other services to resolve your emergency, Esplanade Dental Care is prepared to work quickly and efficiently to get you out of pain and your oral health back to normal.
The Most Common Dental Emergencies
Is your emergency the result of poor oral hygiene, or did you have a sudden accident? Either way, we'll find the root of the problem and take the appropriate steps to address it. Regardless of the cause, you should always give our office a call, even if you aren't sure that you're experiencing a dental emergency. In the meantime, here are some first aid tips that will help prepare you for some of the most common dental emergencies.
Understanding the Cost of Dental Emergencies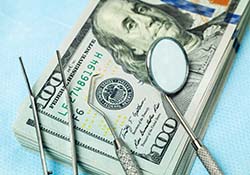 If you or someone you know is experiencing a dental emergency in Downers Grove, the first question that pops up in your head is probably, "How much will this cost?". The truth is, it's hard to say how much you'll pay for emergency dental care as it depends on what your smile needs. Sometimes it can be as simple as writing a prescription, while other times an extraction or another form of advanced dental care is necessary. Whatever the case, we'll examine your situation and give you an estimate of the price so that you can begin to make a plan. Of course, our priority will always be saving your smile! If you want to learn more about the cost of emergency dental care, continue reading or reach out to a member of our team !
Every Dental Emergency is Different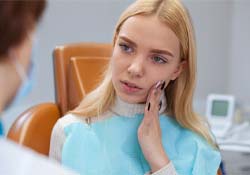 It may surprise you to learn that a visit to an emergency dentist is actually relatively inexpensive. During your initial appointment, our team at Esplanade Dental Care will conduct an oral examination to determine the severity of the damage and assess your needs. Based on our findings, we'll create a personalized treatment plan to get your smile back to normal. Since the specific procedures you need will depend on the type of emergency you're experiencing, it's impossible to predict the overall cost until you come to see us at the office. Before moving forward with the recommended treatment plan, we'll thoroughly explain the pricing information so you know exactly what to expect – no surprises here!
Caring for Your Smile Can Save You Thousands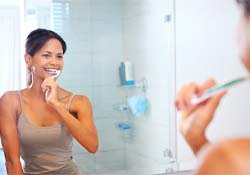 Did you know that most dental emergencies in Downers Grove happen because of untreated infection and damage? That means you can easily keep your smile safe by investing in routine dental appointments and following a solid at-home oral hygiene routine. In doing so, you can potentially save thousands of dollars over the years! Another way to save money is by contacting your emergency dentist in Downers Grove as soon as you notice something's wrong with your mouth. By taking care of the problem right away, you can avoid needing more extensive and costly procedures down the line.
Does Dental Insurance Cover Dental Emergencies?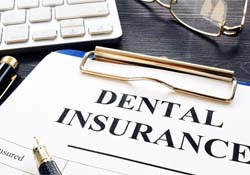 The good news is that most dental insurance plans do offer some form of coverage for dental emergencies in Downers Grove. Typically, many of them will pay for one needed emergency exam per year. Any services commonly associated with a dental emergency (i.e., extractions, dental crowns, root canal therapy) receive partial coverage, usually between 50-80% in most cases. Of course, every policy is unique, which is why you should confirm the details of your coverage with your insurance provider before committing to anything. It's worth noting that yearly maximums and deductibles usually come into effect, so don't forget to consider those as well!
Other Options for Making Dental Emergencies Affordable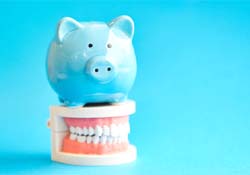 We understand that not everyone has dental insurance, which is why we offer an additional financing option to help make it easier to pay for treatment. With CareCredit financing, you can split up the total cost of your emergency dental care into smaller, budget-friendly installments. Since there are multiple low-to-no interest plans, you're guaranteed to find one that best fits your needs.
Are you experiencing a dental emergency in Downers Grove? Don't hesitate to contact our team at Esplanade Dental Care for assistance. We'll create a personalized treatment plan that'll get you the prompt relief you deserve – all while keeping your total expenses as low as possible!
How to Prevent Dental Emergencies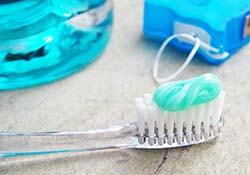 While there will always be a chance of your mouth suffering from some kind of physical trauma, adopting good habits will greatly decrease your risk. Don't bite down on ice, pen tips and other hard objects, and never use your teeth to open packages of any kind. Also, if you play a sport (even one that's low contact), always wear a mouthguard.
Brushing, flossing, and rinsing with mouthwash on a regular basis will help get rid of the bacteria that cause infections in your teeth and gums. You might miss a few spots without realizing it, but luckily a thorough checkup and cleaning at Esplande Dental Care will help take care of that! Read on if you'd like to learn more about the top five ways to prevent dental emergencies in Downers Grove.
Visit Your Dentist Regularly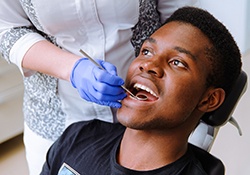 If your teeth look and feel fine, you may be tempted to skip your routine six-month dental checkups. However, you could be putting yourself at risk of a dental emergency by doing so! Visiting us every six months gives us the chance to spot dental issues as early as possible, when they're still small and easy to treat, and long before they turn into a dental emergency. Plus, a thorough cleaning and personalized preventive care twice a year from our team will help keep these problems from forming in the first place!
Maintain Good Oral Hygiene Habits at Home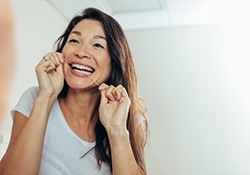 Between visits, you can keep your smile healthy and safe by practicing great oral hygiene habits. Studies report that the vast majority of toothaches that cause patients to seek emergency care, either from their dentist or their local ER, are caused by decay that could have easily been prevented. Brushing your teeth for two minutes twice a day and flossing daily play a key role in keeping tooth decay and cavities at bay, and will go a tremendously long way in protecting you from a serious toothache.
Be Careful With Your Diet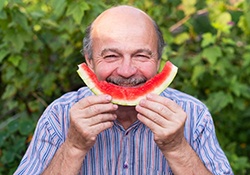 As we mentioned above, untreated cavities can lead to toothaches that require emergency care. While sugar is the most well-known culprit behind cavities, don't forget that carb-heavy foods like breads, crackers, and pasta can fuel cavity-causing bacteria just as quickly. Additionally, you should take every precaution against chewing on hard foods like ice, nut shells, fruit pits, and popcorn kernels. Instead, make sure you're eating plenty low-fat dairy products, lean proteins, and foods full of vitamin C.
Protect Your Teeth During Sports & Bedtime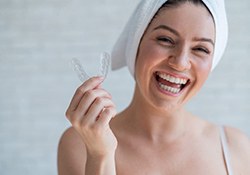 Your teeth are strong, but they need extra protection if you play sports that could injure your face. A custom-made athletic sports mouthguard will protect your pearly whites from outside force as well as each other to reduce your risk of cut lips and chipped, cracked, or knocked-out teeth.
You may also need to protect your smile when you sleep if you have bruxism. This is a condition where you clench your jaw and grind your teeth while you sleep, which wears away at your enamel and can potentially damage your teeth. To protect your smile while you sleep, we can offer a personalized nightguard for bruxism.
Don't Use Your Teeth As Tools
If you've ever been in a hurry or feeling somewhat lazy, you may have been tempted to use your teeth as tools. Maybe you've used your teeth to open packages, hold your keys, rip off price tags, or trim your fingernails. While doing so may save you a little bit of time in the moment, it could send you to our emergency dental office with a chipped or broken tooth in the blink of an eye! Always keep the right tools somewhere easy to reach so you're not tempted to put your smile at risk.
Dental Emergency FAQ's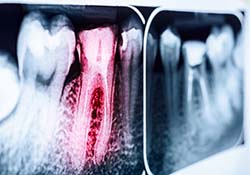 At Esplanade Dental Care, we want our patients to be as informed as possible about how to take care of their teeth and gums. That includes avoiding emergencies when possible and treating them when it's not. When a dental emergency strikes, however, the last thing you want is confusion along with your stress. That's why we have put together this list of the most common dental emergency questions that we get asked and answered them below for your convenience.
Will I Need a Root Canal?
This depends on the reason behind your toothache. If it's the result of a serious infection deep within the tooth, we may have to perform root canal therapy. While this procedure has a daunting reputation of being painful, it can actually relieve your dental discomfort. Your emergency dentist in Downers Grove will access the center of your tooth, removing the infected portion and the nerve which is causing your pain. Then, they will seal it up and place a filling or crown over the tooth to restore it to its full, original function.
Should I Seek Emergency Treatment Immediately?
Definitely! If you're experiencing some kind of dental pain, you should contact us right away, even if you're uncertain whether it's truly an emergency. While general medical issues often get better with time, dental problems typically worsen the longer you ignore them. When it comes to your oral health, it's much better to be safe than sorry. Especially in the case of dislodged or broken teeth, seeing us sooner rather than later can mean the difference between saving and losing your tooth. Additionally, most dental emergencies are painful to some extent, so you should come in for an appointment as soon as possible so we can alleviate your discomfort.
When Should I Go to the ER Instead of the Dentist?
You should visit the emergency room instead of us if your dental emergency also threatens your life. This includes situations like a jaw fracture or dislocation, serious infection, or swelling that hinders your ability to breathe. For all other dental emergencies that are not immediately life-threatening or do not involve a broken jaw, contact us instead.