Emergency Dentist in Downers Grove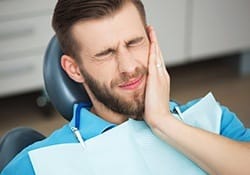 Whether it's a cracked tooth or searing mouth pain, a dental emergency can easily ruin your whole day. At Esplanade Dental Care, Dr. Albert, Dr. Snow, and the rest of our dedicated team understand how unpleasant these situations can be, and we want to provide effective, immediate relief – no weeks of waiting. Contact us in Downers Grove, IL today and we will accommodate you in our schedule ASAP. Our patients' needs come first!
If you are unable to reach our office right away for whatever reason, here are some tips for how to manage your condition in the present:
I Broke My Tooth
If any large pieces of the tooth have come loose, gather them up and plan to bring them to our practice. It's important to stay calm! You may experience some added oral sensitivity, but the saliva should remineralize and insulate the area within a few hours. If you experience facial swelling, a cold compress held to the nearest cheek can help reduce the effect.
I Lost My Tooth
Do you still have the tooth? If so, ONLY handle it by the crown portion, never the root. If you want to try to save the tooth, rinse off any dirt or foreign debris from the crown carefully and then try to place it back into its original socket. If this can't be done, hold the tooth in your cheek pocket or carry it in a container of milk. Your top priority should be keeping the tooth moist. Contact Esplanade Dental Care immediately, as there is typically only a very small window of time for this type of treatment.
I Have a Bad Toothache
Tooth pain may be caused by something stuck between your teeth. First, rule out this possibility by flossing and rinsing your mouth. You can take Advil or another painkiller, but don't place it directly on the gum tissue – it may cause more harm. If the pain persists, there could be a cavity or a serious infection present, so reach out to our practice as soon as possible.
I Have Something Stuck Between My Teeth
Tie knots into a length of dental floss and then try to dislodge the object carefully. In most cases, this will be able to eliminate the pain. If you're struggling with regular floss, try a flossing stick instead – it will help you maneuver through tight spaces more effectively. If you cannot safely remove the object, contact our Downers Grove office for further assistance.
My Mouth is Bleeding
Light oral bleeding may be caused by periodontal (gum) disease or a serious cut. If the bleeding is heavy and does not stop with consistent pressure, please proceed to your nearest emergency room. Otherwise, our doctors can take a closer look during an emergency appointment.