Dentures – Downers Grove, IL
An Affordable Tooth Replacement Option
Who is a Good Candidate for Dentures?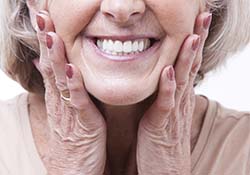 Dentures are a great option for people who are missing several, most of, or all of their teeth. After all, no one wants to worry about eating, speaking clearly, or feeling too embarrassed to show off their smile to the world due to missing teeth. Depending on the location and number of your missing teeth, we will create a personalized plan to help you achieve a natural-looking smile that is both function and comfortable. If you have existing dental issues, like tooth decay or periodontal disease, they will need to be treated beforehand. This way, your new smile will have a healthy start!
Types of Dentures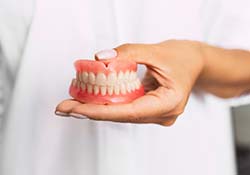 There are a few different types of dentures out there to cater to people's various needs when it comes to tooth replacement. During your initial consultation, it will be discussed which option is best for you. Here are the types that are available:
Partial Dentures
Partial dentures are used to fill in the gaps between healthy teeth. A gum-colored base material is crafted to fit between remaining dental structures and support prosthetic teeth. The partial denture is held in place with clasps attached to surrounding healthy teeth. You can remove and replace the partial denture easily for cleaning each day, and in the majority of cases, patients are able to chew a wide array of nutritious foods.
Full Dentures
Full dentures are also made using a gum-colored base, but they replace an entire arch of teeth. The base is molded to fit against the gum line, creating natural suction that holds the denture in position. Patients who want a little extra stability can add denture adhesive. Like traditional partials, full dentures are easily removed for sleep and cleaning.
Implant Dentures
Implant dentures offer the maximum level of natural chewing function. In most cases, a partial or full denture can be supported by four to six implant posts. If you choose to receive an implant retained denture, you can either elect fixed or removable prosthetics. For some patients, the removable implant dentures are best to ensure ease of cleaning, but the semi-permanent fixed implant dentures offer the longest lasting, most natural results.
The Benefits of Dentures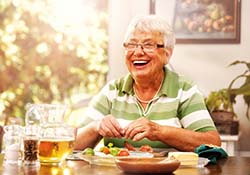 Dentures offer numerous different benefits. Here are just some of the ones that you can expect to experience after opting for dentures:
Supports facial muscles and prevents the appearance of sunken cheeks
Improves ability to annunciate words
Allows you to eat with ease
Easy to remove for cleaning
Improves the appearance of your smile
Keeps surrounding teeth in place
Increases confidence
Covered by most dental insurance plans
Caring for Your Denture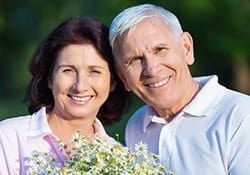 If you have a removable denture, you should take it out at night for cleaning. Brush the denture using a soft-bristled toothbrush. Then, store your denture in water or cleaning fluid overnight. If you have healthy teeth remaining, you should continue to brush and floss them after removing your denture and before replacing it each day. If you do not have any healthy teeth remaining, you can gently brush your gums to remove plaque buildup or use an antimicrobial mouth rinse. Patients who have implant dentures can brush them like healthy natural teeth. You may need to use a specialized flossing tool like a water flosser to remove plaque buildup between dentures and soft tissue to avoid gum disease that can lead to dental implant failure. You should also visit our office twice each year for checkups and teeth cleanings.
Understanding the Cost of Dentures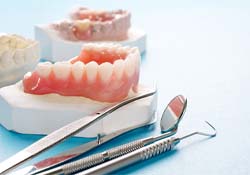 The cost of dentures in Downers Grove will vary from patient to patient. Why? Because every person's needs are different, so the amount you pay for either a partial or full denture will be different than someone who prefers implant dentures. During your initial consultation with our team at Esplanade Dental Care, we will consider various factors and determine how much you can expect to pay out of pocket. The good news is that most dental insurance companies provide some level of coverage for dentures, and we can also help you apply for flexible financing if necessary.
Factors That Affect the Cost of Dentures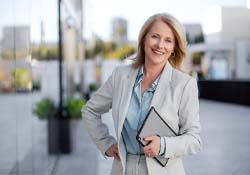 At Esplanade Dental Care, our team of experts is ready to help you regain a fully functional, aesthetically pleasing smile. While evaluating your oral cavity during an initial consultation, we will consider the following three factors when determining your expected costs:
Do you require any preliminary treatments (i.e., bone grafting, periodontal therapy, tooth extraction)? If so, you can expect these to be incorporated into the breakdown of your costs.
The type of material used to create the base of your denture. Most are typically made of acrylic.
The materials used to create your artificial teeth, which are usually either acrylic or porcelain.
Although dentures in Downers Grove are not a cheap venture, it is far better if you invest in high-quality materials instead of looking for cheaper, less expensive options. Remember, the amount you pay often reflects the quality you receive.
Are Implant Dentures More Expensive?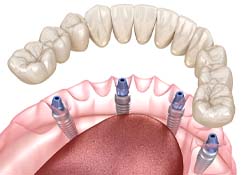 If you are considering implant dentures as opposed to traditional prosthetics, yes, you can expect them to be more expensive. The reason is that they do not sit on top of your gums and rely on your natural suction. Instead, they are surgically placed into your jawbone for added stability. The material (titanium) fuses well with bone and creates a firm foundation for your new smile. Unlike traditional dentures that require adjustments and replacements every 5-10 years, implant dentures are designed to last at least 30 years or longer with proper care and maintenance. This is just one of the many reasons millions of adults in the United States are already living with dental implants.
Does Dental Insurance Cover Dentures?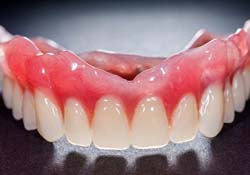 Most dental insurance companies are pleased to provide available coverage for dentures. Depending on the categorization of these prosthetics, it is possible your insurer will pay anywhere from 50-80% of the total cost. However, you must first meet your deductible, and you can expect them to consider how much of your annual maximum is remaining. If you're unsure how your policy works and what you should be looking for to determine your estimated savings, our team will be happy to assist. We will even work on your behalf with the insurance company to ensure you receive maximum coverage and savings when pursuing your denture treatment.
Other Options for Making Dentures Affordable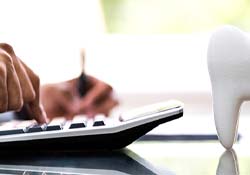 If you're uninsured or need help to pay the remaining balance after filing a claim with your insurance company, our denture dentist in Downers Grove is pleased to partner with CareCredit. This third-party financier offers low and zero interest payment plans to make receiving dentures easier on you and your wallet. By breaking up the cost of your treatment, you can better budget and make monthly installments without breaking the bank.
Denture FAQs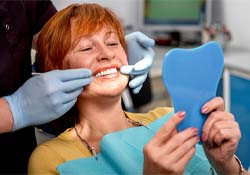 At Esplanade Dental Care, we understand how extensive tooth loss can affect your quality of life. Not only can it negatively impact your self-esteem, but it can change the way you eat and speak as well. Luckily, we'll be here every step of the way to help you rebuild your smile and confidence. We've decided to answer a few of the most common questions we get about dentures in Downers Grove. If you don't find the answer to your specific question, don't hesitate to reach out to our team !
Should I Have All My Teeth Pulled to Get Dentures?
If possible, the best course of action will always be to repair a damaged tooth rather than replace it. Tooth extractions are only recommended if they're absolutely necessary, like when a tooth is damaged beyond repair thanks to decay, an infection, or trauma. Although there is no limit to the number of teeth that can be removed in one appointment, some extractions are more difficult to perform than others. Of course, during your consultation, your dentist will discuss all of your options with you before recommending extractions for dentures in Downers Grove.
Can I Sleep with Dentures?
When you first get your dentures, your dentist will instruct you to keep them in your mouth for about 24 hours, including sleep. However, you must remove them every night before bed after that first day. Neglecting to do so can restrict the circulation in your gums, causing soft tissue irritation and speeding up ridge resorption. Additionally, sleeping with dentures can increase your risk of pneumonia and plaque buildup. By taking your dentures out nightly, you allow your gums a chance to recover and get the nutrients they need while you sleep.
Will It Hurt to Get Dentures?
Do you need to have teeth extracted before getting dentures? If so, you'll likely experience some discomfort after oral surgery. As long as you take your prescribed medication as directed, your discomfort should resolve within 3 to 5 days following the procedure. When you first get your dentures, you may experience mild irritation while your mouth adjusts to the oral appliance. Although it could take months for the discomfort to fade, the exact amount of time truly varies from person to person. If you're experiencing persistent or worsening pain after getting your dentures, you should contact your dentist in Downers Grove right away. They'll identify the underlying problem and address it as needed.
Is It Hard to Talk with Dentures?
Initially, you may find it difficult to speak with your dentures because you're so used to using your natural teeth. Because of the changes in your palate, you might develop a lisp or impediment at first. Luckily, these speech alterations will eventually go away with time and practice.
Here are a few tips to help you out:
Read aloud constantly and repeat words that are difficult to pronounce
Speak slowly and enunciate
Bite down on your dentures and swallow before you begin talking to ensure your oral appliance is in its proper position