Dentures – Downers Grove, IL
An Affordable Tooth Replacement Option
Who is a Good Candidate for Dentures?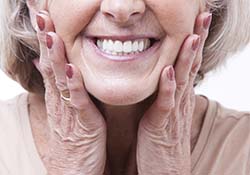 Dentures are a great option for people who are missing several, most of, or all of their teeth. After all, no one wants to worry about eating, speaking clearly, or feeling too embarrassed to show off their smile to the world due to missing teeth. Depending on the location and number of your missing teeth, we will create a personalized plan to help you achieve a natural-looking smile that is both function and comfortable. If you have existing dental issues, like tooth decay or periodontal disease, they will need to be treated beforehand. This way, your new smile will have a healthy start!
Types of Dentures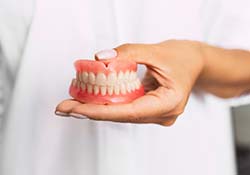 There are a few different types of dentures out there to cater to people's various needs when it comes to tooth replacement. During your initial consultation, it will be discussed which option is best for you. Here are the types that are available:
Partial Dentures
Partial dentures are used to fill in the gaps between healthy teeth. A gum-colored base material is crafted to fit between remaining dental structures and support prosthetic teeth. The partial denture is held in place with clasps attached to surrounding healthy teeth. You can remove and replace the partial denture easily for cleaning each day, and in the majority of cases, patients are able to chew a wide array of nutritious foods.
Full Dentures
Full dentures are also made using a gum-colored base, but they replace an entire arch of teeth. The base is molded to fit against the gum line, creating natural suction that holds the denture in position. Patients who want a little extra stability can add denture adhesive. Like traditional partials, full dentures are easily removed for sleep and cleaning.
Implant Dentures
Implant dentures offer the maximum level of natural chewing function. In most cases, a partial or full denture can be supported by four to six implant posts. If you choose to receive an implant retained denture, you can either elect fixed or removable prosthetics. For some patients, the removable implant dentures are best to ensure ease of cleaning, but the semi-permanent fixed implant dentures offer the longest lasting, most natural results.
The Benefits of Dentures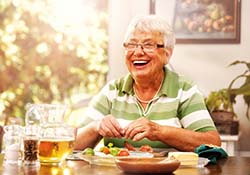 Dentures offer numerous different benefits. Here are just some of the ones that you can expect to experience after opting for dentures:
Supports facial muscles and prevents the appearance of sunken cheeks
Improves ability to annunciate words
Allows you to eat with ease
Easy to remove for cleaning
Improves the appearance of your smile
Keeps surrounding teeth in place
Increases confidence
Covered by most dental insurance plans
Caring for Your Denture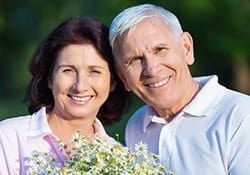 If you have a removable denture, you should take it out at night for cleaning. Brush the denture using a soft-bristled toothbrush. Then, store your denture in water or cleaning fluid overnight. If you have healthy teeth remaining, you should continue to brush and floss them after removing your denture and before replacing it each day. If you do not have any healthy teeth remaining, you can gently brush your gums to remove plaque buildup or use an antimicrobial mouth rinse. Patients who have implant dentures can brush them like healthy natural teeth. You may need to use a specialized flossing tool like a water flosser to remove plaque buildup between dentures and soft tissue to avoid gum disease that can lead to dental implant failure. You should also visit our office twice each year for checkups and teeth cleanings.