Veneers – Downers Grove, IL
Gain a Gorgeous Smile in Just Two Appointments!
Do you have a stained tooth that doesn't seem to ever respond to teeth whitening treatments? Do you have a chipped tooth that makes it hard to smile with confidence? Do you have a few crooked teeth but don't want to spend a year or more wearing orthodontic appliances? Here at Esplanade Dental Care, we offer a solution to all of these problems and more – veneers. This versatile treatment can instantly cover up just about any aesthetic flaw in a tooth. Plus, the process is quick – with veneers in Downers Grove, you can gain a gorgeous smile in just two appointments! Give our friendly team a call today to set up your FREE consultation.
What Are Veneers?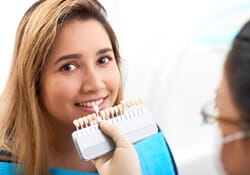 A veneer is a thin porcelain shell that is placed over a tooth's front-facing surface. Once in place, virtually all of the imperfections your tooth may have disappear. Not only can we customize the veneers to match the shape, size, and color of your pearly whites, but dental porcelain also resembles tooth enamel quite well, including the way it reflects light. Because of this, your results will look flawlessly natural!
As an incredibly versatile cosmetic dentistry solution, veneers can correct all of the following problems and more:
Stubborn discoloration or stains
Chipped or cracked enamel
Small gaps between teeth
Misshapen, short, or stubby teeth
Slightly crooked or rotated teeth
Irregular gumlines
The Veneers Process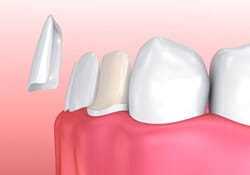 Not counting your initial consultation, it usually takes two appointments to transform your smile with veneers. During the first phase of your treatment, one of our dentists gently reshapes your tooth enamel to create room in your smile for the veneers. Then, we take impressions of the affected teeth. From those impressions, we create a mold that our partnered dental lab uses to make your personalized veneers. While they're being crafted, we can place temporary veneers to protect your teeth in the interim.
The second appointment, which takes place when the veneers arrive at our office a few weeks later, is much shorter. All we have to do is remove your temporaries, make any last-minute adjustments to your permanent veneers, and cement them to the fronts of your teeth.
Benefits of Veneers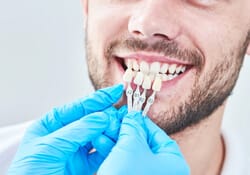 Veneers are a great option for many people seeking a more attractive smile. Here are just a few of the many reasons why your cosmetic dentist in Downers Grove may suggest veneers:
Correct several aesthetic issues simultaneously
Minimally invasive procedure
Results achieved in two appointments over the course of a few weeks
Seamless, natural-looking results
Can last for 10+ years with little maintenance
Understanding the Cost of Veneers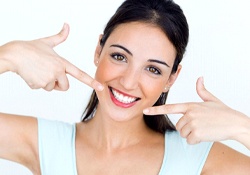 Because each veneer is customized according to the needs of your unique smile, the price you'll pay for veneers in Downers Grove will differ from every other patient. While veneers may cost more than other cosmetic dental services, keep in mind that in terms of dental work, you tend to get what you pay for. As one of the longest-lasting cosmetic treatments we offer, you'll be making a great investment with veneers. Plus, you can't put a price on the confidence you'll gain!
Cost of Veneers vs. Other Cosmetic Dental Treatments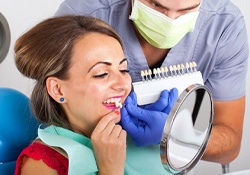 While the cost of veneers is typically higher than that of other cosmetic dentistry treatments, you have to consider the benefits that only they can provide. Here is why your cosmetic dentist in Downers Grove might recommend veneers over alternative solutions:
Braces – Braces can straighten crooked teeth more effectively than veneers can. They can also fix bite alignment issues like overbites. However, you'll have to wear awkward and limiting metal brackets and wires for an average of 18 to 24 months or longer. In contrast, veneers can close minor gaps or correct slightly crooked or rotated teeth in just two appointments.
Teeth whitening – Our professional teeth whitening treatments can remove years' worth of stubborn stains, but unfortunately, they cannot do anything to alter the size, shape, or proportion of your teeth. Plus, even the best teeth whitening treatment only last for a few months to a year at most. Veneers, on the other hand, can easily last for a decade, maybe even two.
Direct bonding – Sculpting a composite resin onto your tooth can fix a variety of flaws, including chips, gaps, and stains. Bonding costs significantly less than veneers do, but the results are not nearly as durable. Your procedure will have to be redone every few years.
Veneers – After only two visits to our dental office, veneers can give your smile a complete makeover by fixing virtually any cosmetic imperfections your teeth could have. These porcelain shells are also durable enough to withstand 10 to 20 years of daily biting and chewing. As you'll soon discover, the confidence you'll attain with veneers is worth every single penny!
How to Make Veneers Affordable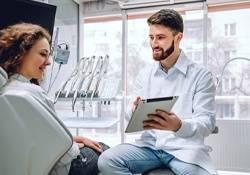 It's quite rare for dental insurance providers to cover the cost of veneers in Downers Grove, as they usually consider it an elective procedure. Don't worry, though; our team can help you find ways to pay for veneers without breaking the bank.
In addition to accepting traditional payment methods, our dental office is also a partner with CareCredit. With the sheer variety of payment plans that CareCredit offers, you're sure to find one that can easily fit within your budget. Best of all, many of them come with extremely low or even zero interest for qualified patients!