Porcelain Veneers Downers Grove, IL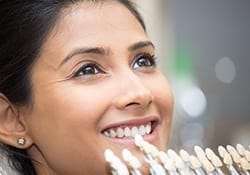 A veneer is a thin layer of restorative material placed over a tooth surface either for cosmetics or to protect or repair a damaged tooth. The two main materials used to make veneers are resin composite and porcelain. A resin composite veneer is generally done chairside by bonding a thin layer of tooth-colored resin material to the tooth. This type of veneer is generally less expensive and not as permanent as porcelain veneers. Moreover, it usually requires only one appointment to have a resin veneer placed.
Porcelain veneers are typically lab-fabricated and generally more expensive than resin veneers. Porcelain veneers are completed in two appointments. The first appointment consists of preparing the tooth and taking an impression to send to the lab and the second consists of applying and bonding the lab-fabricated porcelain veneer to the tooth or teeth. Porcelain veneers are more permanent than resin veneers and tend to be much more natural in appearance. Porcelain veneers have the additional advantage of giving the dentist more options with regards to changing the shape, size and color of the underlying tooth structure.
What Are Veneers?
Veneers are a great option to enhance smiles. Many people suffer from certain conditions that can alter the shape and color of their teeth. Some examples of these conditions are acid erosion and grinding. Some individuals have enamel defects and imperfections that occurred during the development of teeth and may even have been the result of certain antibiotic exposure during development. Some individuals simply want a quicker cosmetic fix than lengthy orthodontic treatment and choose to have multiple veneers placed to correct crooked or spaced teeth.
How Should I Plan for Porcelain Veneers?
Prior to fully investing in veneers, it is a good idea for the patient to have an expectation of what the final product may look like. Should the patient have interest in seeing what his or her restored mouth will look like, he or she could request that the dentist take impressions of the pre-treatment teeth and then have the dental lab fabricate models of the patient's mouth. The lab can then add wax to the model teeth depicting how the smile with veneers will look when finished.
What are the Benefits of Veneers?
Veneers are a great option for many people seeking a more cosmetic smile. They are a conservative option for quickly improving the smile and the benefit and satisfaction a patient achieves is priceless.
Call Esplanade Dental Care today to set up your free consultation and find out whether you are a candidate for veneers. We serve patients from throughout Greater Chicago, including Lombard and Wheaton.