Dental Implants – Downers Grove, IL
State-of-the-Art Tooth Loss Solution
The loss of natural teeth doesn't have to be permanent. At Esplanade Dental Care, Dr. Albert and Dr. Snow are proud to offer a truly revolutionary treatment option for patients in need – dental implants. While traditional reconstructive services have only concerned themselves with recreating the crown (the visible portion) of a missing tooth, dental implants in Downers Grove start with the root that's well-hidden under the gum tissue. This method creates an enduring foundation for the new tooth that maintains a high level of oral health while also leaving patients with results that feel, look, and function just like the genuine article.
Our team is happy to offer every stage of dental implant treatment – including the surgical components – right here in in-office for optimal patient convenience and comfort. To get started with an initial consultation, contact us today.
Benefits of Dental Implants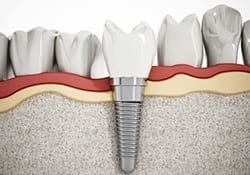 By replacing your lost teeth with dental implants, you can expect to enjoy the following benefits:
The implants are firmly secured in the jawbone, giving your new teeth a strength and stability that you can trust.
Implants are topped with custom-made restorations that are so lifelike, the only people who will know which teeth aren't real are you and our team members!
Dental implants stimulate blood flow to the jawbone, preventing it from atrophying as it often does after tooth loss. This will keep it strong enough to support your facial muscles and ward off premature wrinkling.
Because of their strong foundation, dental implants can last for 30 years or more, which is several times as long as traditional dentures or bridges.
Indications for Dental Implants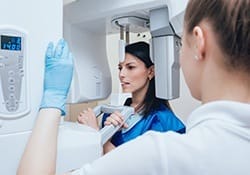 There are several options available to restore dental implants, and your specific solution will depend on personal preferences and the number of teeth that need to be recreated. Based on these factors, you may receive one of the following:
Missing Single Tooth
A single implant can replace a tooth in a way that does not negatively impact adjacent teeth. Once the post has been surgically inserted into your jawbone to take the place of your lost tooth, your implant dentist in Downers Grove restores it with a dental crown. We make our crowns with high-quality porcelain materials that are nearly identical to natural teeth.
Missing Multiple Teeth
Similar to a traditional dental bridge, an implant-retained bridge can be used to restore up to three consecutive missing teeth along the same arch. Instead of filing down natural teeth to accommodate crowns, implants will be placed instead on either side of the gap in order to anchor the prosthetic securely in place. This option is ideal, as the patient's continuing oral health will be better preserved, and natural teeth will be spared from negative alterations.
Missing All Teeth
If a patient has lost some or even all of their natural teeth, implant-retained dentures can often be successfully used to revitalize oral health and restore an ideal amount of biting function. Because our doctors will only place a small, strategic number of implants within the jawbone to provide support, this option is also typically more cost-effective.
Start-to-Finish Dental Implant Treatment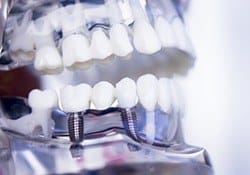 While many general dentists in the greater Chicago area have to refer their patients to specialists for the dental implant placement process, Dr. Albert has the advanced training needed to keep your care in one location. Thanks to this comprehensive approach, our patients are able to save a great deal of time and money compared to other practices who send their implant patients running between several different doctors. Here at Esplanade Dental Care, you'll work with the same team throughout the whole process, from your initial consultation through the day you walk out of our office with a fully rebuilt smile.
Understanding the Cost of Dental Implants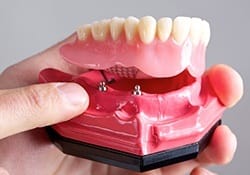 Every patient's dental implant journey is different, so the cost of treatment can vary significantly from person to person. Many factors can influence the final price, such as the number of teeth you've lost and the type of restoration you'll need. Before you start treatment, our team can go over all of your pricing information so you have a better idea of how much you can expect to pay to replace your missing teeth in Downers Grove.
Dental implants can be a large investment, but we believe they're a smart one. In addition to providing superior function and aesthetics compared to alternative treatments, they last much, much longer. While conventional bridges and dentures tend to break down before a decade has passed, dental implants can last for 30+ years, saving you thousands of dollars in retreatment costs in the long run.