Dental Implants – Downers Grove, IL
A State-of-the-Art Tooth Loss Solution
Just because you've lost one or more of your natural teeth doesn't mean you're doomed to always suffer from gaps in your grin. You also don't have to deal with loose dentures or dental bridges that don't last for long. At Esplanade Dental Care, Dr. Albert, Dr. Snow, and Dr. Stylski proudly offer a truly revolutionary tooth replacement – dental implants. This state-of-the-art tooth loss solution helps patients enjoy reliable, long-lasting teeth that feel as natural as they look. Our team is happy to provide every step of the dental implant treatment process, including the surgical components, right here in-office for optimal patient convenience and comfort. To get started with an initial consultation for dental implants in Downers Grove, contact us today.
Why Choose Esplanade Dental Care for Dental Implants?
Dental Implants Conveniently Placed & Restored In-House
Low-Interest Dental Financing Available
Cone Beam Scanner Leads to Ultra-Precise Treatment
What Are Dental Implants?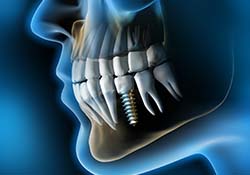 While traditional tooth replacements only concern themselves with recreating the crown (visible portion) of a missing tooth, dental implants set themselves apart by also replacing the tooth's roots that are hidden underneath the gum tissue.
A dental implant itself is a small, screw-shaped post that is made of a biocompatible material, usually titanium. Once this post has been surgically placed into the jaw, it fuses with the nearby bone tissue in a months-long process called osseointegration. This allows the implant to fulfill the functions of natural tooth roots. Then, a metal fixture called an abutment is placed on top of the implant to secure a custom crown, bridge, or denture into place, depending on the number of teeth you need to replace.
By replacing every part of a lost tooth, dental implants create an enduring, stable foundation for new teeth that delivers excellent oral health with results that look, feel, and function just like the genuine article.
The 4-Step Dental Implant Process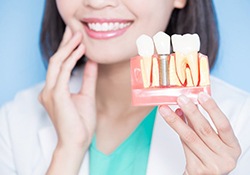 While many general dentists in the greater Chicago area have to refer their patients to specialists for the surgical placement of dental implants, Dr. Albert has the advanced training needed to keep your care in one location. Thanks to this comprehensive approach, our patients are able to save a great deal of time and money compared to other practices who send their dental implant patients running between several different doctors. Here at Esplanade Dental Care, you'll work with the same team throughout the whole process, from your initial consultation through the day you walk out of our office with a fully rebuilt smile.
Every patient has a slightly different journey when replacing their teeth with dental implants in Downers Grove, but here's an overview of the four basic steps in the process.
Initial Dental Implant Consultation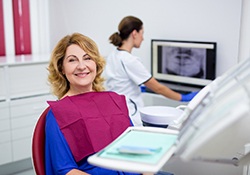 To start, you'll need to meet with our dentists for an initial consultation. During this visit, we'll not only get an idea of your specific goals for your new teeth, but also find out whether you're eligible by taking high-definition images of your teeth, jaws, and other oral structures. With this knowledge, we can begin planning out your treatment, let you know what to expect, and answer any questions you might have about how dental implants work in Downers Grove. Keep in mind that you may have to complete one or more preparatory treatments – such as bone grafting, tooth extractions, and gum disease therapy – before your mouth is ready to receive dental implants.
Dental Implant Surgery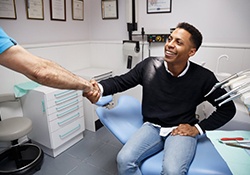 Although the prospect of oral surgery can seem intimidating, rest assured you have nothing to worry about. Dr. Albert's expertise allows him to handle this procedure with expertise in the same convenient office you're already familiar with. Plus, we'll make sure your mouth is fully numbed before beginning.
The surgery itself is relatively simple. After making tiny incisions in your gums, your implant dentist in Downers Grove carefully inserts the implant posts into your jaw at predetermined positions. Next, the incisions are closed, and healing caps are placed to protect the implants as you recover.
Dental Implant Osseointegration & Abutment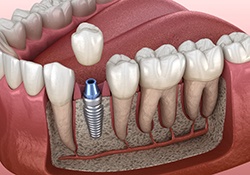 You should feel back to normal within a few days of your surgery, but you'll need to wait for at least three to six months for osseointegration to occur. This is the process by which your jawbone grows attached to the implants, forging a bond that could potentially last a lifetime.
Once your implants have merged with your jawbone, we'll probably have to perform another surgery in order to attach your abutments. These are small metal pieces that go on top of your implants and secure your prosthetic teeth into place. The procedure is pretty straightforward; we make incisions to access the tops of your implants and simply place the abutments atop them.
Delivery of Dental Implant Restoration(s)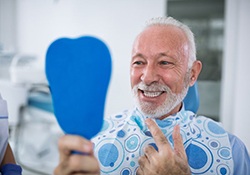 After you've recovered from your abutment placement (which shouldn't take more than a couple of weeks), we can begin designing your restoration – the replacement teeth that are anchored onto your abutments. We use state-of-the-art technology and work with the finest dental labs in the area to create dental crowns, bridges, or dentures that mimic your natural teeth flawlessly. Once we've secured your restoration into place, you're free to enjoy the next best thing to your original smile!
Benefits of Dental Implants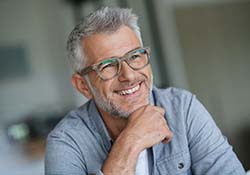 Dental implants are the gold standard of tooth replacement options, and it's easy to see why! These metal posts rebuild missing teeth from the roots up, providing a more durable and natural solution for renewing your smile. On top of that, they have the potential to boost your overall health, self-esteem, and quality of life in various ways that you won't expect from traditional dental bridges and dentures. Read on to learn about the benefits of dental implants in Downers Grove!
Day-to-Day Benefits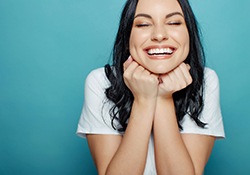 Natural Appearance: Due to the porcelain material and the way it reflects light, you wouldn't be able to tell the difference between a dental implant and your permanent teeth if you saw them side by side in a patient's mouth.
Minimal Dental Care: You won't have to bother with any special treatments to maintain your dental implants. You'll be able to care for them like natural teeth by simply brushing and flossing them regularly, and visiting our dental team every six months for checkups and cleanings.
Powerful Bite: Unlike traditional dentures and dental bridges, dental implants will be surgically embedded directly into your jawbone. Once it's completely healed, you'll be able to munch on whatever foods you want without worrying about your prosthetic moving out of place or falling out.
Health Benefits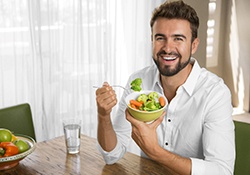 Protect Natural Teeth: Dental implants will be directly anchored to your jawbone, meaning they won't rely on any of your other remaining teeth to stay in place. They'll also provide stability for your surrounding pearly whites, preventing them from drifting out of place.
A Comprehensive Solution: Unlike most other tooth replacement options, dental implants can effectively prevent and even reverse the jawbone deterioration that generally happens after tooth loss. Not only does this preserve the foundation of your other existing teeth, but it can also help you keep a more youthful facial appearance throughout the years.
Stress-Free Tooth Replacement: Other tooth replacement options like dentures can often come with uncomfortable side effects, such as jaw soreness, tooth sensitivity, or gum sores. With dental implants, you'll never have to worry about discomforts like these. Many patients find this treatment option so comfortable that they forget they even have them.
Long-Term Benefits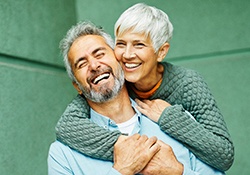 Reliable Results: Dental implants possess an incredible success rate of over 95%. When placed by a trained professional, you can even expect these titanium posts to retain this success rate 10 years after being placed.
Long-Lasting Solution: While dentures and dental bridges can go as far as 10 years, dental implants are designed to last several decades to a lifetime! This technically makes them a more cost-effective treatment compared to traditional options, as you won't even have to replace the restoration atop the metal posts as frequently.
Who Dental Implants Can Help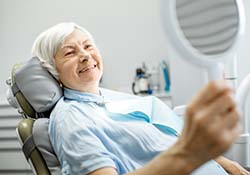 Are you missing one tooth? Several throughout your mouth? An entire row? No matter how large the gaps in your mouth, there's a good chance that dental implants in Downers Grove can give you a complete smile again. Most adults who are in generally good health and are looking to replace one or more lost teeth can qualify for dental implants, and when you visit Esplanade Dental Care for your consultation, our dentists will plan out your unique treatment based on your needs and preferences.
Who Is a Good Candidate for Dental Implants?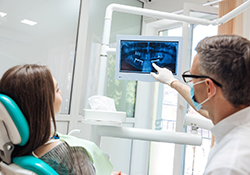 Thanks to their versatility, dental implants can replace any number of missing teeth. Typically, you need to meet three criteria to be considered a good dental implant candidate:
Adequate overall health – Placing implants requires oral surgery, so you'll need to be free of general medical conditions that could make the procedure or recovery risky.
Good oral health – Gum disease, tooth decay, and other oral health problems will increase the risk of dental implant failure, so they'll need to be treated beforehand.
Strong jawbone – The implants will need a firm foundation in order to last, which becomes less likely to occur if the jawbone has lost density.
Don't worry if you don't have all of these qualifications at first – it's still more than possible for you to become eligible for dental implants! We may simply need to do some preparatory work, such as bone grafting to replace jawbone mass that has deteriorated after tooth loss. After these preliminary procedures have been completed, we can begin planning your specific solution for restoring your smile. This varies based on the number of teeth you're missing.
Missing One Tooth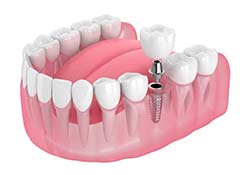 A single implant can replace a tooth in a way that does not negatively impact adjacent teeth, unlike regular dental bridges. Once the post has been surgically inserted into your jawbone to take the place of your lost tooth's root, your dental implant dentist in Downers Grove restores it with a dental crown. We make our crowns with high-quality porcelain materials that are nearly identical to natural teeth.
Missing Multiple Teeth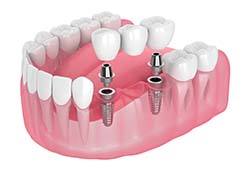 Similar to a traditional dental bridge, an implant bridge can be used to replace up to three consecutive missing teeth along the same arch. Instead of filing down natural teeth to accommodate crowns, implants will be placed instead on either side of the gap in order to anchor the prosthetic securely in place. This option is ideal, as the patient's continuing oral health will be better preserved, and natural teeth will be spared from negative alterations.
For patients who are missing several teeth that are nonconsecutive, we'll very likely be able to arrange a small number of implants so that they can support a partial denture. Compared to a traditional partial denture, the implant-supported version is much more reliable and conservative for your oral health as a whole.
Missing All Teeth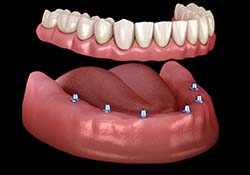 If you're missing all of your teeth on an arch and/or you're sick and tired of dealing with a slipping denture, you'll be happy to know that we can often anchor a full denture onto implants. In most cases, all we need to do is place between four and eight implant posts at strategic locations and angles throughout the jawbone. This option is certainly more cost-effective than replacing each individual tooth with its own implant! In addition, implant dentures eliminate the worry that your teeth will slip out of place, so they allow you to chew your favorite foods, speak with clarity, and smile with the utmost confidence.
Understanding the Cost of Dental Implants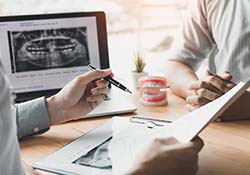 Dental implants are specifically customized for each patient, so there isn't a one-size-fits-all answer when it comes to the cost of your treatment. The only way to receive an accurate estimate of the cost of your dental implants is to schedule a consultation with us. During this time, we will go over all associated costs, as well as your payment options. In the meantime, here are some things that you should take into consideration.
Preliminary Treatments & Dental Implant Surgery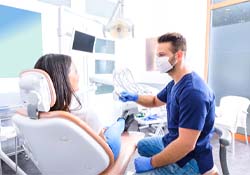 Any preliminary treatments you require before you can get dental implants, like gum disease therapy, tooth extractions, and bone grafting, will contribute to the overall cost. For many patients, these treatments are necessary in order to ensure that the dental implants are successful. Preliminary treatment can sometimes be covered by dental insurance, so this is something you should check with your insurance provider. Because we conveniently provide the entire treatment under one roof, you don't need to worry about working with an outside surgeon to pay separately for your implant placement surgery.
The Parts of Your Dental Implant
Here are the main factors that contribute to the cost of your dental implants:
Number of dental implants : Depending on the number of teeth that you need to have replaced and where they are located in the mouth, you will need additional or fewer implants. The more implants that you need, the higher the cost will be.
Type of restoration : Crowns, bridges, and dentures all have different costs. Generally, the smaller the restoration, the more affordable.
Material : Implants can be made from zirconia or titanium. These materials are at different price points.
Brand of dental implant : Dental implants come from many different manufacturers. This can influence their cost.
How Dental Implants Can Save You Money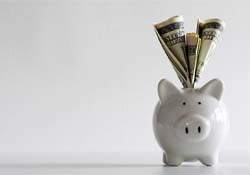 If you're trying to save money, it can be tempting to opt for dentures or bridges, but dental implants have benefits that you can't get from any other tooth replacement option. They can even help you save money in the long run. You don't need to worry about paying for new replacement restorations every five to seven years like you would with dentures, and you don't need to stock up on soaking solutions and adhesives. Dental implants can also help you to avoid oral health issues, including gum disease, misalignment, and tooth decay, that will ultimately require costly treatments over time.
Does My Dental Insurance Cover Dental Implants?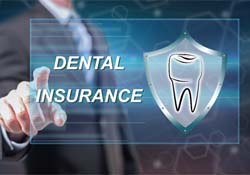 A lot of the time, dental insurance plans don't cover the cost of dental implants, but there are some exceptions. Parts of the final or preliminary treatments are often covered. Our team would be happy to go over your benefits with you so that you know what to expect before your treatment rolls around. We will do everything we can to maximize your coverage.
Making Dental Implants Affordable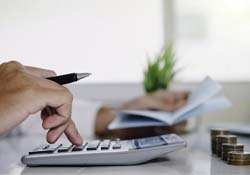 If you don't have dental insurance, this doesn't necessarily mean that you're completely out of luck. We work with CareCredit – a third-party financing company that can break the cost of your treatment into manageable monthly installments with little to no interest. Talk to one of our friendly team members to learn more about your options.
Maintaining & Caring For Your Dental Implants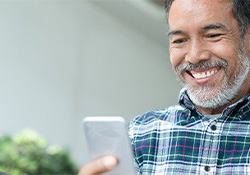 Dental implants are incredibly effective at replacing and mimicking natural teeth, but they aren't indestructible. You'll need to take care of them just as much as you do your natural teeth in order to get the best longevity and function from them going forward. Below, we've broken down some of the most important steps you'll need to take to care for your dental implants. These are essential whether you're replacing single, multiple, or all your teeth.
Make Oral Hygiene a Priority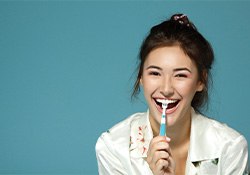 Brushing every day is necessary to keep dental disease at bay for your natural teeth and your tooth replacements. To keep plaque production as low as possible, you'll need to brush at least twice a day and floss once daily. If you're having trouble flossing, consider using floss picks to make your routine easier. Additionally, including an oral rinse into your oral hygiene habits can help you clean hard-to-reach areas of your mouth. Just make sure to opt for a product that is alcohol-free.
Eat a Healthy Diet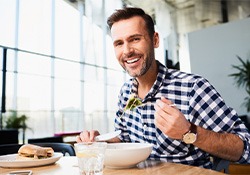 The foods you eat can have a major impact on your long-term oral health, so make sure your diet is balanced and includes fruits, vegetables, lean proteins, and dairy products. Additionally, you should do your best to lower your consumption of sugary or starchy foods, both of which can make it easier for oral bacteria to produce plaque acids that harm teeth and dental implants. Drink water throughout the day to keep saliva production high, something that is vital to keeping your mouth clean.
Break Bad Habits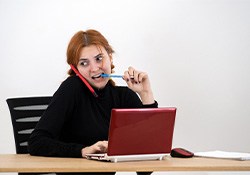 Dental implants should not be used to perform tasks that you wouldn't do with your natural teeth. For example, you should never under any circumstances use your teeth to open bottles, packages, or perform other tasks that are better suited for a dedicated tool (think box cutters, scissors, or bottle openers). You should also avoid chewing on very hard foods or objects period, including popcorn kernels, ice cubes, hard candy, and other similar options as they can easily crack your implant restoration or damage the implant itself.
Protect Your Dental Implants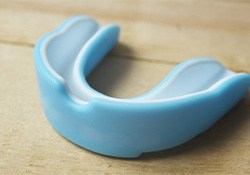 If you participate in many contact sports, you understand just how important it is to have the right protection while you do. For example, sports like football, basketball, soccer, wrestling, karate, and others all carry a high risk for sudden impact. By wearing a mouthguard, you can dramatically reduce your chances of experiencing a dental emergency and give your teeth and dental implants the protection they need. Professional, custom-made options are always going to feel more comfortable, last longer, and provide the best protection.
Schedule Regular Dental Checkups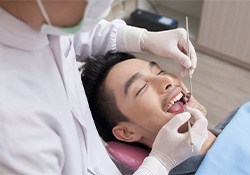 Don't forget to maintain regular checkups to our office once every six months so we can examine your tooth replacements and overall oral health. On top of confirming your at-home oral hygiene is working as intended, we can remove any lingering plaque or tartar that's collected on your teeth and gums since your last visit.
Dental Implant FAQs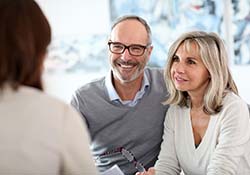 Replacing missing teeth is always a big decision, so you likely have at least a few questions. In the section below, our expert team at Esplanade Dental Care answers some of the most common inquiries we get from patients about dental implants. If you prefer to speak directly with someone about dental implants in Downers Grove, do not hesitate to give our office a call!
How Long Do Dental Implants Last?
With proper care, dental implants can often last for 30+ years. The long-lasting nature of dental implants sets them apart from traditional bridges and dentures, which must be replaced every 7 to 15 years. To make your dental implants last, be sure to:
Brush twice a day.
Floss daily.
Attend dental checkups every six months.
Avoid chewing on anything too hard or sticky.
Avoid opening packaging with your teeth.
How Successful Are Dental Implants?
When placed by an experienced implant dentist in Downers Grove like Dr. Albert, dental implants can have a success rate of over 95 percent. You can help ensure the success of your implants by practicing excellent oral hygiene at home and eating a nutritious diet. In addition, regular dental checkups are key to maintaining a healthy smile. The location of your implants may also influence whether they are successful. In general, molars receive more strain from chewing than front teeth, so they may be slightly more likely to fail.
How Long Does Dental Implant Surgery Take?
While every case is slightly different, placing a single dental implant usually takes between one and two hours. More complex cases that involve multiple implants will likely take longer. This estimate includes the time needed to administer anesthesia as well as dress you for a sterile surgical atmosphere.
How Long Does It Take to Recover from Dental Implant Surgery?
It typically takes up to six months for dental implants to fully fuse with the jawbone. However, you should be able to resume your normal activities the day after implant surgery. In general, we recommend that patients take it easy the first week and avoid any strenuous exercise, as this could delay healing.
You may experience some bleeding and swelling immediately after implant surgery. The bleeding should stop after the first couple days, while swelling should go away after three to four days. Taking prescribed or over-the-counter pain relievers as directed by your dentist can help manage any mild discomfort.
Do Dental Implants Make You Look Younger?
Yes! Whenever you eat a meal, the force of biting and chewing food spreads through the roots of your teeth to stimulate your jawbone. When teeth are missing, the jawbone does not receive this stimulation. As a result, many people with missing teeth find that their jawbone gradually deteriorates over time. They eventually appear more wrinkled, with a sunken-in face and fine lines around their mouth because their jawbone can no longer support their facial structure. Dental implants prevent jawbone deterioration by replacing the missing tooth root structure. In fact, implants are the only tooth replacement solution that can stimulate the jawbone and keep you looking younger.
Will I Have to Take Off Work for Dental Implant Surgery?
Implant surgery – both the treatment and the immediate recovery – involves very little time. Typically, a patient only needs to take a day or two off before they can return to work.
Of course, there are exceptions. Our office may suggest further time away from a job if it's physically demanding. (Resuming it too quickly could delay or prevent the healing process.) In that case, you may want to schedule the procedure on a Thursday or Friday. Ultimately, though, our team will make suggestions based on your unique case.
Are Dental Implants Safe?
So long as you're in decent health, dental implants are perfectly safe. We'll ensure your treatment and its results don't do any harm.
For starters, the placement process shouldn't cause any side effects. Our dentists use advanced tools to plan it, preventing complications. Treatment risks are thus minor and rarely ever occur. Even in cases where they do, the effects are small and temporary.
Meanwhile, implants themselves seldom damage a patient's mouth. Their titanium bases are usually harmless and ensure the prosthetics fuse with your jaw. Furthermore, their porcelain surfaces are non-toxic and don't cause allergic reactions.
What Can Cause Dental Implants to Fail?
Ultimately, dental implants are sturdy and reliable. They're even known for being highly successful in the long term. Still, they can fail sometimes. Such failures usually stem from one of two reasons: peri-implantitis or failed osseointegration.
Peri-implantitis' role in implant failure is simple. As a gum infection, the condition erodes the bone and gums that support implants. The result is that your jaw can't keep the restoration(s) in place and allows it (or them) to loosen or fall.
Alternatively, failed osseointegration can also ruin an implant treatment. This issue – caused by things like bruxism, tobacco use, poor oral hygiene, etc. – keeps implants from fusing with your jaw.
How Can I Tell if My Dental Implant is Failing?
Rest assured, the signs of implant failure aren't hard to find. Just keep a look out for the following symptoms:
Pain Near or Around the Implant Site
Inflamed or Swollen Gums
Feeling of Implant Looseness
If you notice one or more of these factors, contact your dentist immediately. They may be able to save the implant from failure. Otherwise, they can replace the old prosthetic with a new one.