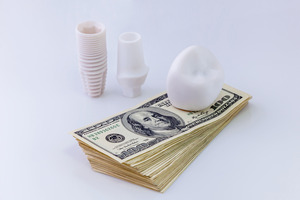 The end of the year is fast approaching, which means that you have only a few more months before your dental insurance benefits reset. That being the case, you may be on the hunt for treatments that could make a difference in your smile, and that may make good use of your benefits.
Dental implants are often recommended for people who are missing teeth, and the benefits that they offer in terms of strength and stability speak for themselves. Could they be a way to make use of your dental insurance before the end of the year? Here's what you should know.
Are Dental Implants Covered by Dental Insurance?
When talking about dental insurance in any detail it can be a little bit hard to make absolute statements. Every single plan is different, which means that it's difficult to make claims with any reliability about your particular dental plan without knowing more.
That said, the coverage you'll get for your dental implants is likely to be minimal, though not necessarily zero. Some dental plans won't cover any part of the dental implant process, while others will cover certain aspects of the treatment, like the restoration that sits on top of it. However, dental insurance is likely to pay only a portion of the cost of even these components.
Does Timing Matter for Dental Implants?
The fact that dental implants aren't likely to be covered by insurance means that you don't necessarily have to worry about exceeding your yearly maximum in getting them. Seeing as it's the end of the year already, this is probably a good thing.
It's also worth noting that, because payments towards treatments that aren't covered don't generally contribute to your deductible. That means that there's no difference whether you get the treatment before or after you've met it.
If you think that your restoration may be covered, you should try and get dental implant surgery now so that you can make use of your benefits before they reset at the end of the year. Given the fact that you're unlikely to exceed your yearly maximum, you should be able to do this even if you've gotten care earlier in the year.
About Our Practice
At Esplanade Dental Care, we believe that getting your dream smile is the project of a lifetime, and we want to be your partners in this endeavor through every step of the way. If you're someone who ordinarily dreads spending time at the dentist's office, we're happy to say that your time with us should change how you feel about the field, in addition to changing your smile for the better.
If you have any questions about dental implants, we can be reached at our website or by phone at (630) 493-0914.