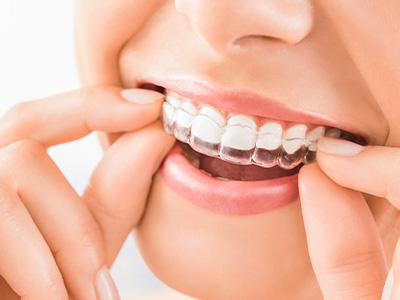 If you ask people to sum up what it's like to wear braces in just one word, you'll probably get plenty of different answers, but one word that's almost sure to come up is "limited." Traditional braces come with many restrictions on your everyday life that can start to wear on you over time. Fortunately, Invisalign lets you enjoy the benefits of orthodontic treatment without the limitations of braces. Below are 4 freedoms of Invisalign in Downers Grove that make the process much more enjoyable!
1. The Freedom to Eat What You Want
When you get traditional braces, you'll be told that you need to avoid chewing gum, popcorn, and various other foods that could damage your brackets and wires. With Invisalign, you don't have to worry about these restrictions; since you'll be taking your aligners out of your mouth whenever you eat, there won't be anything stopping you from enjoying your favorite foods.
2. The Freedom to Socialize with Confidence
Metal braces don't stop you from talking with friends or meeting new people, of course. But they can make you feel self-conscious about your appearance, which can hurt your confidence in a social setting. Since Invisalign aligners are made out of transparent plastic, they're nowhere near as noticeable as traditional braces, allowing you to talk freely with others without worrying about them staring at your orthodontic appliance.
3. Freedom from Frequent Discomfort
Compared to metal braces with sharp brackets and wires that can poke or irritate the inside of your mouth, Invisalign is far more comfortable. The smooth plastic makes your aligners unlikely to bother your tender oral tissues. You will feel some pressure on your teeth whenever you put new aligners in, but it will be mild and should fade after a few days.
4. The Freedom to Smile
For many people, it's easier to smile for the camera when wearing clear Invisalign aligners instead of bulky metal braces. Thanks to the transparent plastic they're made of, aligners let you show off your dazzling natural grin without an orthodontic appliance getting in the way. This can make it much easier to show off a grin when you need to.
Furthermore, Invisalign makes it easier to see the movements of your teeth over time. Little by little, you'll start to see improvements in your appearance. When you realize your teeth are looking better, you'll be more likely to feel like smiling and sharing the dazzling results with the world.
Are you thinking of straightening your grin while enjoying the freedoms that Invisalign has to offer? Get in touch with your dentist today to schedule a consultation so that they can help you figure out whether you're a good candidate for the treatment.
About the Practice
Here at Esplanade Dental Care, Dr. Sherif Albert, Dr. Christine Snow, and Dr. Alyssa Stylski all share a passion for helping people smile with the latest dental treatments. They're proud to be able to offer Invisalign as an alternative for patients who want to straighten their smiles without having to wear braces. To schedule a consultation to see if Invisalign is right for you, visit their website or call (630) 493-0914.