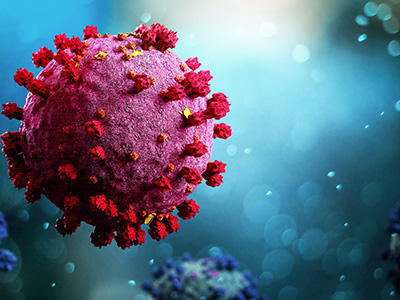 With the number of COVID-19 cases increasing exponentially day by day, it's easy to become paranoid that one day you will catch it. However, there are preventive measures you can take to lower your risk, such as washing your hands frequently, adhering to social distancing guidelines, and wearing protective gear like masks and gloves when you do have to go out. Besides those precautions, did you know there are dental habits that can help prevent the spread of the coronavirus? Keep reading to learn all about them.
Disinfect Your Toothbrush Weekly
Here are a few ways to keep your toothbrush clean and germ-free:
Allow your toothbrush to soak in denture/retainer cleanser for a few hours
Boil your brush for five minutes
Soak the brush in a mixture of one part household bleach to nine parts water
Wash Your Hands Before Brushing
Everyone is aware that the virus is easily transmitted by touching your face, especially your mouth. Since we touch our toothbrushes twice a day and they go into our mouths, they need to be kept clean in order to keep germs from entering our bodies. Get in a routine of washing your hands before you touch your toothbrush, just to be on the safe side.
Store Your Toothbrush in an Open Container
Do NOT place your toothbrush in a cabinet, drawer, or travel case when you're not using it. Dark, damp places like this can rapidly become a breeding ground for bacteria. Even though it might not be the coronavirus, you might still develop an unpleasant bacterial infection.
Instead, keep your brush in a holder. If you share a toothbrush holder, you may want to consider getting a separate holder for each person. This will prevent the brushes from touching and spreading germs to each other.
Don't Share Oral Hygiene Products
It should go without saying that you shouldn't share your toothbrush, even with your significant other. Germs, including the coronavirus, can spread this way. It's also worth mentioning that you shouldn't use the same container of floss or tube of toothpaste as someone else. These products could carry germs and spread them to other people in your household.
Replace Your Toothbrush If You Get Sick
Whenever you recover from an infection, whether it be viral or bacterial, it's always a good idea to switch out your toothbrush with a new one. Otherwise, using that old brush could re-infect you and get you sick all over again.
While none of these habits are completely foolproof ways of avoiding COVID-19, they can help massively in lowering your risk of contracting it. After all, a clean mouth is a healthy mouth, and a healthy mouth leads to a healthy body!
About the Author
Dr. Sherif Albert earned his degree in dentistry from the Ohio State University College of Dentistry. He regularly keeps up with continuing education courses in order to hone his dental skills so he can provide the best possible care to his patients. For more oral health tips in Downers Grove, visit Dr. Albert's website.