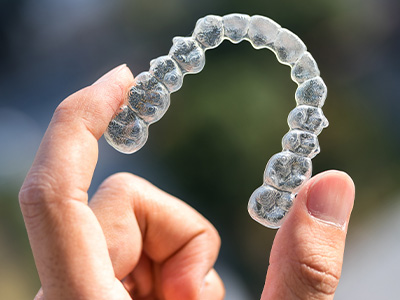 It's a safe bet to say that anyone who wants to straighten their teeth probably wants to do it as quickly as possible. Especially busy adults who have full personal and professional lives! The idea of spending years in orthodontic treatment, particularly metal brackets and wires, simply isn't appealing to most people. Fortunately, there are options today like Invisalign in Downers Grove that are not only invisible, but often faster than traditional braces. Keep reading to find out how long Invisalign usually takes and whether it might work for you!
How Long Does Invisalign Take?
The average Invisalign treatment is 12 months, and most people begin to see changes in just 2-3 months. Braces take an average of 18-24 months.
However, since every patient is unique, the best way to get a more specific idea of how long your treatment would be is to schedule a consultation with an Invisalign-certified dentist.
Having said that, here are some factors that will determine how quickly you get results:
Age – Many adults are still done in an average of 12 months. However, our jawbone becomes more "set" as we age, so the teeth can take a bit longer to move.
Severity – Most patients with mild or moderate misalignment issues are candidates for Invisalign. But more severe or complex cases require a higher number of trays (and more time) to correct. In particularly severe cases, your dentist may recommend braces as the best treatment.
Compliance – If the clear aligner trays aren't worn for a minimum of 22 hours a day, it will take longer to get your results. This allows 2 hours during which they can be taken out for meals, brushing and flossing, and important events like interviews or photographs. Teenage patients typically struggle with compliance more than adults.
Are You a Good Candidate For Invisalign?
Invisalign works for a wide variety of alignment problems, including:
Crowding
Gaps
Overbites and underbites
Crossbites
Deep bites
This invisible method of straightening the teeth is one of the best procedures that modern dentistry has to offer and is a fantastic alternative to braces for many reasons. You'll also be glad to know that Invisalign has a 96% satisfaction rating amongst patients.
For anyone who wants to enjoy a straight, even smile as soon as possible, Invisalign provides results that are both fast and reliable!
About the Author
Dr. Christine Snow is an Invisalign-certified dentist in Downers Grove and a graduate of the University of Kentucky College of Dentistry. She loves seeing the positive impact that orthodontic treatment has on a patient's life and is thrilled to offer Invisalign as an alternative to braces. If you're interested in straightening your teeth and have any questions, she can be reached via her website.