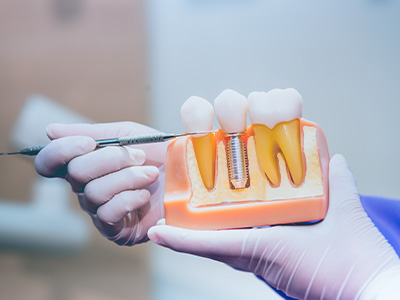 Replacing teeth is a complex process, but dental implants in Downers Grove are, for the most part, pretty straightforward. When replacing a single tooth, a titanium implant integrates with natural bone, and an implant-retained crown is placed on top. If you've ever called a dentist directly to ask them about cost, you were probably given a vague answer. That's because the only way you can truly determine cost is by having an implant consultation first.
The Cost of Implants
As mentioned, implants use a titanium rod to act as the tooth root because of its naturally biocompatible properties. However, placing them into the jaw carries its own cost, especially if your surgery is more complex. For example, there might be nerves or other structures blocking the pathway for placement, therefore making the process more difficult.
Furthermore, the number of implants you need will also influence cost. For example, placing two implants to support a bridge or four to six implants to hold an entire denture will affect your total. Traditional implants can cost anywhere between $1,800 and $2,500 per tooth, depending on the manufacturer.
The Cost of Restorations
Restorations, including implant-retained crowns, bridges and dentures all carry their own unique costs. Keep in mind that implants almost always use porcelain crowns to replace teeth in order to provide the most aesthetically pleasing restoration possible. The complexity of the restoration needed will dramatically influence cost since it not only has to look good, but will also keep your bite even. Uneven bites can cause complications later, so this factor will be taken into great consideration before placement. On average, implant-retained crowns cost between $1,000 and $2,000. Bridges and dentures are typically $3,000 and more.
Other Treatments to Consider
Since many patients pursuing dental implants generally suffer from tooth loss for long periods of time, it's likely that bone loss is present in the jaw. When there isn't enough bone for implants to adhere to, it makes it far more difficult for dentists to place them, at least initially. That's where bone grafts and sinus lifts come into play. These treatments are designed to increase the height, width and volume of your overall jaw bone.
The costs of these treatments will largely vary depending on the extent of your bone loss, so keep this in mind when speaking with the dentist on this issue. Bone grafts can range from $250 to $3,000 depending on where the donated bone comes from. If the bone is artificially created or coming from a cadaver (such as an animal), it will cost less than if it was coming from inside your own body.
How to Pay for Them
It's no secret that dental implants are expensive, but compared to other tooth replacement options, the long-term cost is actually better. Implants are designed to last anywhere between 25 years and a lifetime, meaning you won't have to worry about replacing them every decade or so like you would need to with traditional bridges and dentures.
Practices also offer CareCredit, a payment service that makes the cost of dental implants more manageable, affordable and simple!
The cost is higher, but the benefits are higher. To get a solid price, contact a dentist in Downers Grove!
About the Author
Dr. Sherif Albert earned his DDS degree from the Ohio State University College of Dentistry. He can give you a set price for your implant treatment, so feel free to give him a call! To learn more about dental implant treatment in general, you can contact his office through his website.