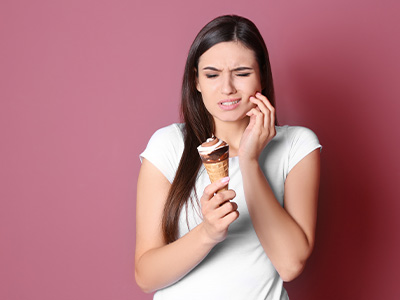 Being able to enjoy a nice cold milkshake on a hot summer's day is something a lot of people take for granted. Unless, of course, they have sensitive teeth! Then simple pleasures like that require a little more effort to enjoy without pain or discomfort. But even though it's a pain (no pun intended) to deal with sensitivity, the good news is that there are ways to get relief. In this blog, you'll learn about the causes and solutions for sensitive teeth from a dentist in Downers Grove so you can start enjoying all your favorite foods again – pain free!
What Causes Sensitive Teeth?
There are multiple causes for sensitivity. Here are some of the most common culprits:
Acidic foods – Acidic foods and beverages like citrus fruits, coffee and carbonated beverages wear away at the protective enamel over time, exposing the sensitive tooth structure underneath.
Clenching and grinding – The forces from clenching and grinding can stimulate the nerves of the teeth and make them sensitive to both temperature and normal chewing pressure.
Gum recession – Gum recession exposes the root of the tooth, which isn't covered with enamel like the rest of the tooth. Normally, the gums cover and protect these sensitive root surfaces, but that protection is lost when the gums recede.
Tooth decay or fracture – In some cases, sensitivity occurs because a tooth has a cavity or fracture that's damaged the protective enamel layer.
What Can You Do About Sensitivity?
Schedule a checkup – It's always a good idea to see a dentist who can pinpoint the specific cause of your sensitivity and recommend the appropriate treatment. In particular, you want to rule out tooth decay because an untreated cavity will continue to progress and require more extensive treatment down the road.
Use fluoride – Fluoride not only strengthens your enamel and prevents decay, it also reduces sensitivity. In addition to what's in your toothpaste, you can also use a store-bought fluoride mouthwash. Or you can replace your normal toothpaste with highly-effective, prescription-strength toothpaste from a dentist.
Use a sensitivity toothpaste – These formulas have special ingredients like potassium nitrate that put a protective coating over the teeth to protect the nerve.
One additional thing to note is that when you're using topical treatments like fluoride or a sensitivity toothpaste, it may take 1-3 weeks of consistent use to see results.
Sensitivity can prevent you from consuming all your favorite foods and beverages. But with these tips and tricks, you'll be back to enjoying everything again in no time!
About the Author
Dr. Sherif Albert is a general, restorative and cosmetic dentist who understands how sensitivity can impact his patient's quality of life. He knows that the best relief comes from combining the right professional treatments with good habits at home and always educates his patients about which solutions will work for their specific needs. If you have any questions, he can be contacted via his website or at (630) 493-0914.