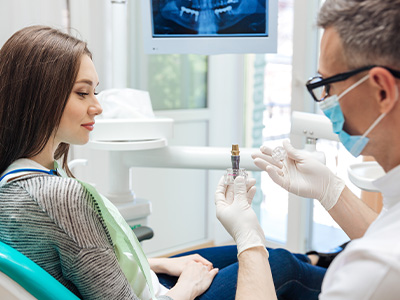 Choosing dental implants to replace a lost tooth is a smart long-term investment in your oral health and your confidence because it restores both your root and your tooth. But what can you expect from the recovery process? Is completing your dental implant as complex as it sounds? Your dentist in Downers Grove has the answers.
The First Day After Surgery
During implant surgery, your dentist will place your implant into you jawbone. Dental implants in Downers Grove are made of titanium, which is a biocompatible material. This means that the implant will naturally integrate with your bone during a process called osseointegration, which takes place over the next 3 to 6 months. This is also the secret as to why implants are so successful because they actually become part of your dental anatomy by fusing with your jawbone.
You should take it easy the first day after surgery and plan on resting. Any strenuous activity could result in increased bleeding or swelling.
Swelling is normal the first few days after surgery and it can be minimized using a cold pack. Bleeding is also common the first day after surgery, but it should not be severe. You can control any oozing by gently biting down on gauze.
Eating softer foods that are not too hot is advisable right after surgery. You should avoid using a straw for the first few days after surgery as this can interfere with your blood clot.
Having pain or tenderness is normal in the first day after surgery and you can take pain medication as needed.
Days 2 and 3
You can begin warm salt water rinses in days 2 and 3 after surgery. Dissolve a ¼ teaspoon of salt in 8 ounces of warm water and gently rinse using the whole solution within 5 minutes.
You should also begin brushing again, being careful to be gentle around the surgical site. You may still be swollen and have tenderness on day two. By day three you should begin to feel more comfortable and be able to eat more solid foods.
Discoloration or bruising of the tissue is normal in the following days after surgery. You can apply a warm compress to help speed up healing of any bruising that may occur after surgery.
Every patient is unique and if you find that you have different situations occurring or things that are causing you concern during your recovery process, never hesitate to contact your dentist in Downers Grove with your questions or to be seen.
About the Author
Dr. Christine Snow and Dr. Sherif Albert make up your talented team of dentists at Esplanade Dental Care. They have guided many patients through implant dentistry from start to finish and are happy to help you throughout your recovery process.
If you need to contact our dentists, they can be reached by calling 630-493-0914 or through their website.