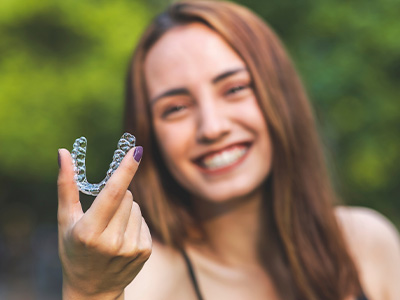 Many people suffer from insecurities regarding their smile. Believe it or not, your lack of confidence in your smile can leak into many different aspects of your life. If you have crooked, gapped, or generally misshapen teeth, Dr. Sherif Albert is able give you the confidence you have always wanted with Invisalign!
Invisalign is a brand of braces that are far from traditional. For people who want to avoid a mouth full of metal, this is ideal! Invisalign are clear braces, making it barely noticeable, if at all, that you are straightening your teeth. There are many advantages to Invisalign besides the obvious. Invisalign gently straightens your teeth through a series of custom created aligners. Invisalign will also be able to give you better oral health than traditional braces as it allows you to floss and brush your teeth normally by simply removing the aligner, then putting it back on when you're finished. Because you won't have to change your lifestyle, the aligners will be doing their job while you're doing yours.
By changing your smile, you can change your outlook on yourself and the world. You will be able to join your friends in a laugh, and never be worried about making a good first impression with a dazzling smile. If you feel as though Invisalign is right for you, make an appointment with Dr. Albert, and let him be a part of your new journey.
At Esplanade Dental Care, Dr. Sherif Albert provides quality cosmetic and restorative dentistry services to brighten your smile. Our Downers Grove, IL dental office serves patients from Lombard, Wheaton, Hinsdale, Oak Brook, and surrounding areas. Call us today to schedule your next appointment.