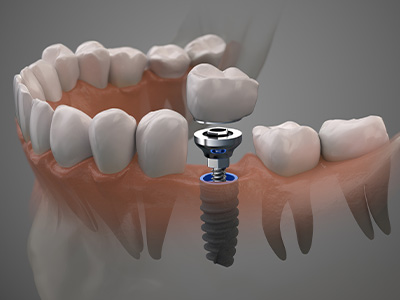 Is the appearance of your smile marred by missing teeth? You have many options available to restore your smile, so there's no need to put up with an incomplete smile any longer.  Esplanade Dental Care offers dental implants for a secure replacement option for missing teeth.
When you lose teeth, it's important to replace them as soon as possible so the health of the rest of your smile won't suffer. Missing teeth increases the risk that you'll lose more, and it could lead to your teeth moving around which will impact your bite. It's important to call us as soon as possible so that we can help your smile with restorative dentistry.
Dental implants work by having a titanium post inserted into your jaw bone. Over time, this post will fuse with your jaw bone, creating a secure base for your replacement teeth that also mimics the root of a natural tooth. We'll craft a custom crown and attach it to the post for a secure replacement for your missing tooth. Dental implants can also be used to support bridges or even dentures. Give us a call to learn more or to see how dental implants could be a great choice to complete your smile.
At Esplanade Dental Care, Dr. Sherif Albert provides quality cosmetic and restorative dentistry services to brighten your smile. Our Downers Grove, Illinois dental office serves patients from Lombard, Wheaton, Hinsdale, Oak Brook and surrounding areas. Call us today to schedule your next appointment.